Vim & Vigor Apple Cider Vinegar & Herb Tonic- 30 Day Supply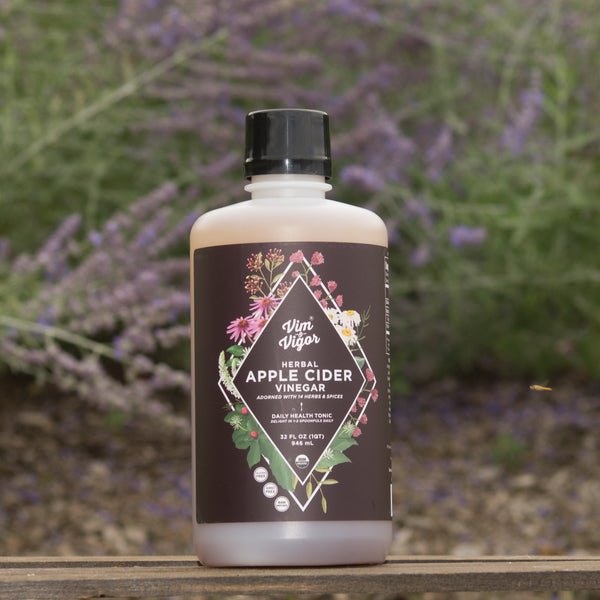 Vim & Vigor Apple Cider Vinegar & Herb Tonic- 30 Day Supply
Our most popular 32-ounce, 100% recycled, food-safe plastic bottle ships to you via USPS or UPS.

What's in it and how's it made?
We start with USA-grown, certified organic herbs that are extracted over the course of many weeks.  We combine this unique herbal extract with raw organic apple cider vinegar, organic apple juice, and organic white grape juice.  This combination makes an amazing elixir that has produced some interesting and healthy results! Vim & Vigor has a shelf life of 3 years while unopened.  After opening it, we suggest storing it in the refrigerator, as it tastes best cold!

Many of our customers love cooking and making custom seltzer with Vim & Vigor. 

INGREDIENTS: Apple Cider Vinegar, Apple Juice, Grape Juice, Black Cohosh, Chamomile, Cinnamon, Echinacea Purpurea, American Ginseng, Chickweed Herb, Ginger, Goldenseal, Valerian, Anise Seed, Cloves, Fenugreek Seed, Black Walnut, Licorice and natural flavoring. 
*ALL ORGANIC INGREDIENTS